The following was originally a twitter thread posted two days ago. It's always interesting to me how the three different formats (Twitter, Facebook, and this blog) have some overlapping readers, but for the most part the Venn diagram of overlap between the three is probably well below 50 percent.
I got bogged down in the last two twitter threads I tried to unroll as blog posts–one was already taking many hours of rewriting so I figured I'd just do a basic unroll and leave the twitter thread unedited. So here it is below.
---
THREAD: US Orchestras and Large Ensembles
The past 10 years I've been researching and cataloguing the Orchestra. Not "Euro-styled Orchestras" (ala Lewis, "Eurological Orchestras"), but ALL Orchestras. Seven years ago I started a site (not public) to chart this in the US.
1/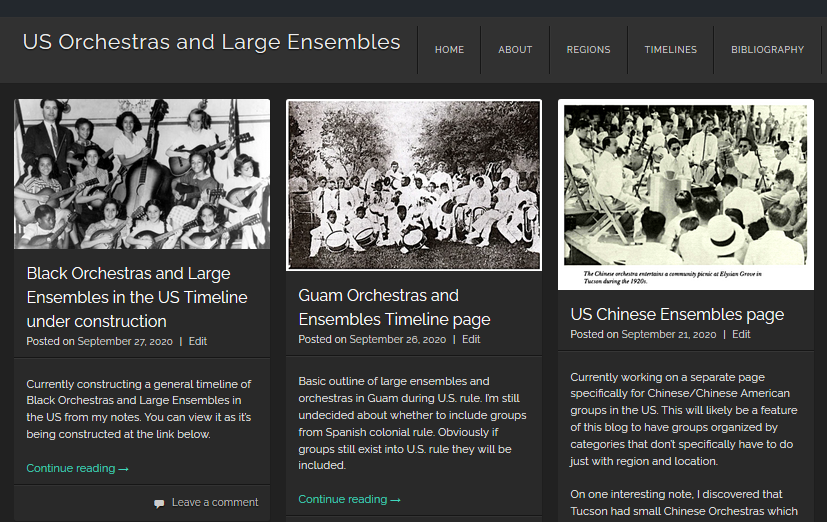 The generally received view is that the Orchestra evolved into its "final mature form" in the first half of the 20th century.
That's simply not the case and easily demonstrably false as long as we leave out Eurocentric/Colonialist/White Supremacist views and definitions.
2/
The Orchestra as an institution is constantly evolving and taking many different forms all around the world, but like the White Male Classical Music Canon, we tend to only see canonical ensemble types and treat them, like the repertoire canon, as universal and neutral.
3/
There's actually a pattern, *Logic of Exclusion of Colored Bodies in Classical Music*, that gets replicated [esp. in the US] in the canonical field. In fact, it's necessary for the maintenance of the hierarchy–and DEI initiatives won't change that.
https://silpayamanant.wordpress.com/2020/09/15/colonialism-white-supremacy-and-the-logic-of-exclusion-of-colored-bodies-in-classical-music/
4/
In fact, I would argue that DEI initiatives are a response of the Music Ecosystem to maintain itself in that position of dominance in the field.
Let's go back to Orchestras.
5/
If a white *Eurological Orchestra* can somehow show itself to be more diverse and inclusive, it will continue to absorb funding that might otherwise go to another orchestra that serves the needs of a different population.
6/
This was what happened when St. Paul's Ordway Center received $86K grant to present "Notes From Asia" while Mu Theater, whose mission/audience is Asian-American, didn't. The grant was for "teach[ing] audiences abt the hist. of Asian-American theatre."
https://www.americantheatre.org/2017/07/21/who-gets-most-arts-money-still-large-white-organizations/
7/
The opposite happened in Toronto a couple years ago. The Canadian Opera Company and Toronto Symphony Orchestra, both Eurological performing organizations, lost funding for not following the city's Diversity guidelines.
https://www.ludwig-van.com/toronto/2018/05/25/the-scoop-toronto-city-council-cuts-partial-funding-to-canadian-opera-company-and-tso-over-diversity-concerns/
8/
As we see calls for diversifying Eurological performing arts organizations, we also see the lack of attention for the other performing organizations which serve other populations, and often are primarily composed of and create content by non-white populations.
9/
This is essentially what I discussed as the "Diversity in" versus "Diversity of" divide. DEI initiatives are designed to reinforce "Diversity in" Orchestras, not "Diversity of" Orchestras.
https://silpayamanant.wordpress.com/2018/07/18/diversity-in-classical-music-vs-diversity-of-classical-music/
10/
What I'm hoping to highlight and amplify is the *Diversity of Orchestras* which will necessarily imply bringing to light the *Diversity of Composition* and Diversity of Audiences, Shareholders, and Communities and their performing arts around the US.
11/
In other words, DEI initiatives are designed to maintain the status quo and are intimately tied to White Saviorism, Colonialism, Civilizing Missions, and ultimately White Supremacy.
12/
By making Eurological Orchestras/Instrumentation/Repertoire the primary and *universal location* of DEI initiatives we're essentially replicating the Logic of Exclusion of Colored Bodies by letting BIPOC CosPlay a part in White Orchestras while ignoring their Orchestras.
13/end
---
P.S. I considered making an analogy of creating a kind of Classicalsound to drown out the Colorsound of other Music Ecosystems (h/t to @DrMaDMo and his work on Blacksound), but still not sure if that's an appropriate way to analyze/characterize the above discussion.
Somewhat related to the thread above.
As I'm populating the US Orchestras and Large Ensemble site with some of my lists I'm getting a chance to revisit some I haven't updated in years. Here's my list of Soundpainting Orchestras from 2014. Majority (30 +) formed between 2000 and 2014!
https://silpayamanant.wordpress.com/new-music-ensembles-in-the-us/soundpainting-orchestras-and-ensembles/
Right before the 2012 NEA SPPA was released, I did a quick analysis of the purported decline in classical music audiences and found it actually trended pretty well with the decreasing proportion of the white population in the US. Bonita Kolb had commented on that trend in 2001.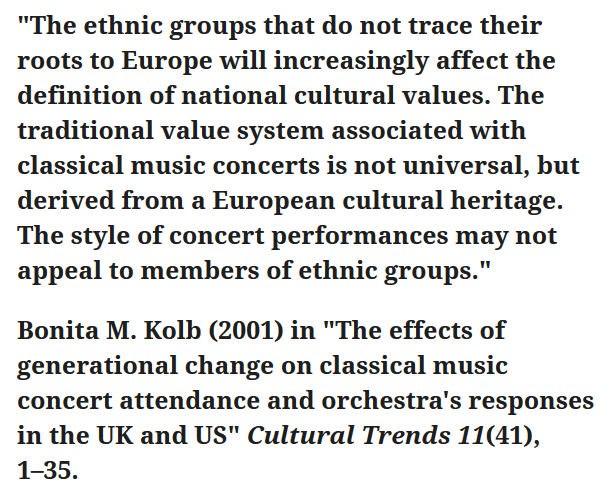 I blogged about that, of course. With all the hand-wringing about the declining audiences for classical music I was also saw the rising trend of non-Eurological performing arts organizations–especially in regions with densely populated ethnic groups.
https://silpayamanant.wordpress.com/2012/03/24/what-if-theres-really-no-decline-in-classical-music-audience/
Originally tweeted by Jon Silpayamanant (โจนาทาน ศิลปยามานันท์) (@Silpayamanant) on September 29, 2020.